Alice Madness Returns [BLUS30607]
Started by John GodGames
2 posts in this topic
Goustoulos
Member
0
12 posts
0 threads Joined: Sep 2017
Goes ingame and plays fine. Until it randomly crashes. The lighting seems too bright aswell.
X5460 4Ghz, GTX480, rpcs3-v0.0.4-2018-01-01-198e9dce
All stock settings, Auto libraries.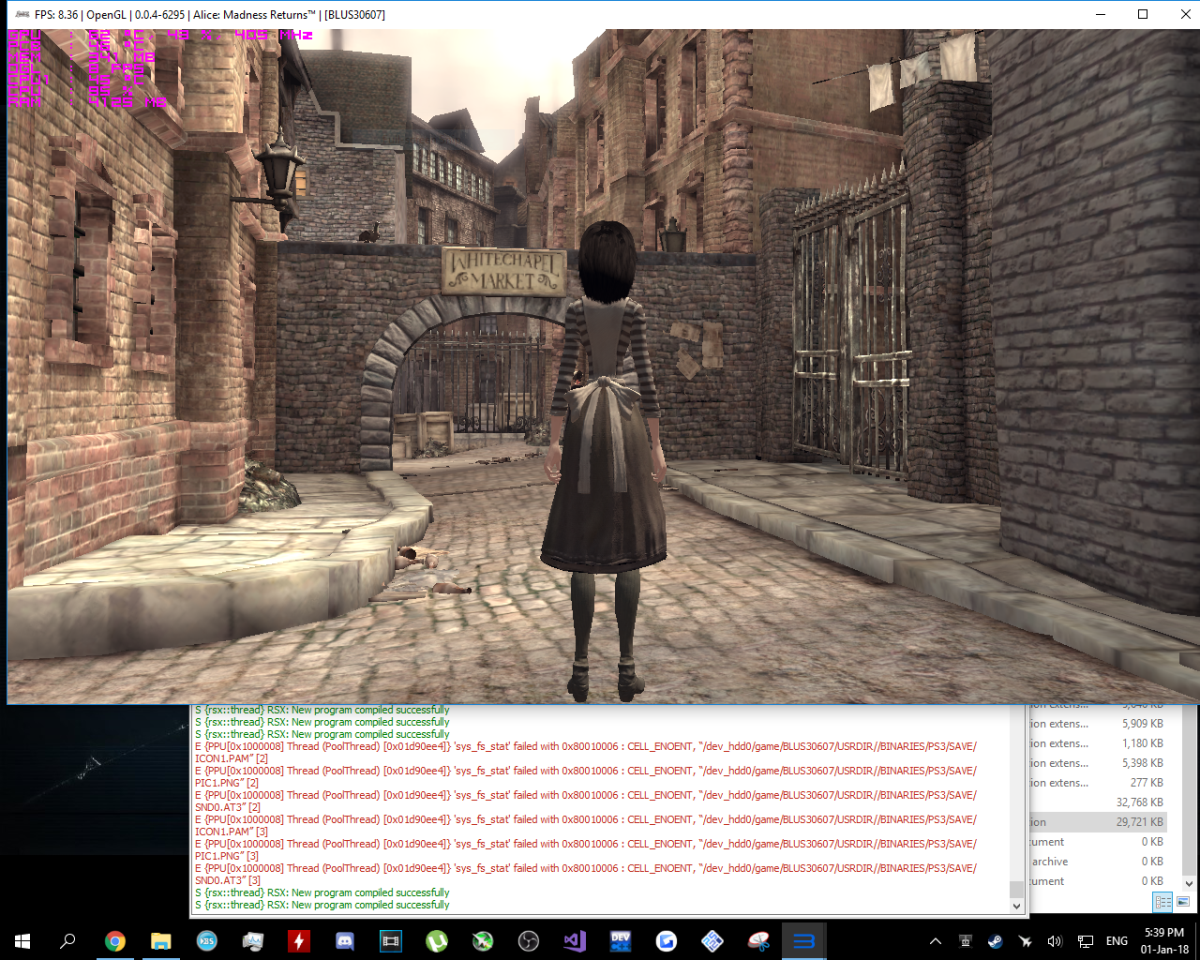 This post was last modified: 01-01-2018, 03:44 PM by Goustoulos.
Playable 
Gameplay FPS is 

stable

.  Graphic/Cutscenes are well-rendered.  Sound/Effects are clearly working.
#Gameplay FPS = (29~30)
# Cutscene 

stable

 (29~30) 
# RPCS3 v0.0.9-10258-256c74de Alpha
# Default Setting [Res. Scale= 300% 

Fullscreen 4K

]
# Intel i9-9900K @ 3.60GHz | 32GB RAM | 2070S 8GB Nvidia | NVMe storage (3500MB/2500MB Read/Write).
@

 Fix Some Random Lighting/Blooming

 (Like In Chapter 4 "CardBridge level")
# 

Enable

 Write Color Buffers (GPU)
@ IF Random hanging at Spy horse/Unreal logo || stuck at loading screen ||
VM: Access violation writing/reading location (unmapped Memoy)
# 

Select

 Load automatic and manual selection (Advanced)
                # 

Enable

 libsail.sprx (Advanced)                                                             
                # 

Enable

 libssl.sprx (Advanced)
Users browsing this thread: 1 Guest(s)